Volvo has unveiled two new concept cars that move the Swedish brand into the large global market of the premium small cars. The newly-revealed 40 series concepts demonstrate for the first time how Volvo plans to expand into the large and lucrative global market for premium small cars with a range of vehicles that combine bold exterior and interior design with industry-leading connectivity, electrification and autonomous drive technologies.
The new concept cars will be the first built around Volvo's new Compact Modular Architecture (CMA), which has been specially created for smaller cars and which has liberated the company's designers and engineers to explore bold and daring new directions.
Volvo's new global small car range will include a pure battery electric vehicle as well as Twin Engine plug-in hybrid powertrain variants, in line with the company's commitment to the electrification of its entire portfolio. Volvo plans to have sold a total of up to 1 million electrified cars by 2025 globally.
On top of their daring exterior design and electrified powertrain options, the new cars will also offer a full range of innovative connectivity services, plus the world's most advanced standard package of safety features and ground breaking Scandinavian interior design. The first new 40 series cars is expected to go into production in 2017 and is expected to replace the current V40.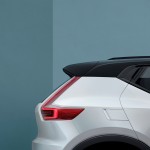 all images and video courtesy of Volvo Motors