Modelled like a sports car inside a wind gallery, this copper observation pod stands atop this striking house designed by South Korean architect Moon Hoon on the popular vacation island of Jeju.
The island is full of volcanic rocks in various sizes, comprising landscapes wonders to common walls demarcating ownerships. Many artists and commoners have been inspired by the beauty and versatility of the island. Recently flocks of koreans and foreign tourists are visiting the island by the thousands. The winter days are often cloudy with strong winds. And the landscape turns to gold and black by dying foliages and volcanic rocks.
The Wind House has been designed for an eye doctor with particular tastes and interest in contemporary art, music and cars. A doctor with many curiosity and penchant for something eccentric and special. The owner commissioned Moon Hoon after seeing his stunning projects online: "He found me through the internet and told me that the strangeness and differentness that is inherent in my architecture attracted him. He wanted three small houses which would be weekend house or pension for tourists. He emphasized that the new structure should have unique character, and of course very functional at the same time."
Two ground-level houses feature board-marked concrete walls, large windows and interiors with a minimal aesthetic, while the third, covered in copper-toned scales and designed by the architect as a "hovering flower", looms over eight metres above the ground.
"The hovering flower, inspired by the wind blowing a women's hair, is frozen and abstracted to become a shape that is reminiscent of an alien, hair dryer, duck, etc…," said Hoon.
The inside boasts a womb-like space painted in red and with dizzying floor colours.  "The sharp difference and contrast between the horizontal houses and hovering houses grounded secularly by high volcanic rock walls bring about a kind of contrasting harmony like that of flowers blossoming among the green leaves," said the architect.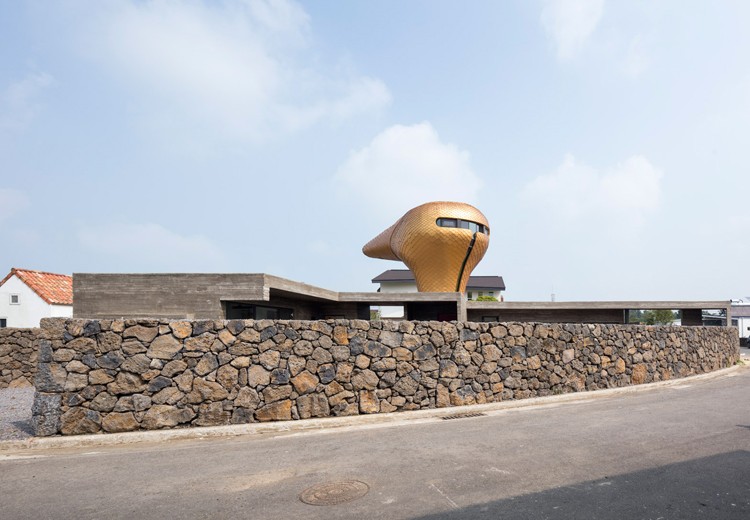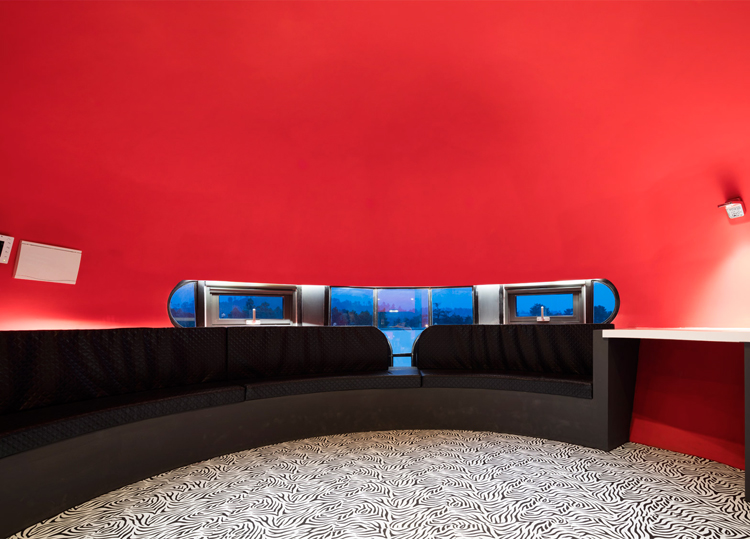 all images © NamGoong Sun