Japanese artist Yayoi Kusama continues her collaboration with the Philip Johnson Glass House in Connecticut by sticking red polka dots all over its transparent walls. 'Yayoi Kusama: Dots Obsession-Alive, Seeking for Eternal Hope' is the third part of the 'Yayoi Kusama: Narcissus Garden' landscape installation, on view throughout the season, in celebration of the 110th anniversary of Philip Johnson's birth and the 10th anniversary of the opening of the Glass House site to the public.
'Dots Obsession-Alive, Seeking for Eternal Hope' is a triumphant statement by Yayoi Kusama about the power of art to transform pain into beauty and meaning. Kusama thoughtfully created this site-specific installation and poem.
The installation consists of more than 1200 low tack adhesive vinyl circles of three varying sizes (12cm, 18cm, and 25cm) applied to the walls and doors of all four facades of the Glass House. The "Pepsi Red" polka dots brightly contrast the lush late summer green landscape of the Glass House, then will complement the emerging autumn colors of New England.
When photographed from the exterior, the polka dots seem to dematerialize. When experienced from the interior, the shadows cast from polka dots repeat the pattern onto the floors and furniture.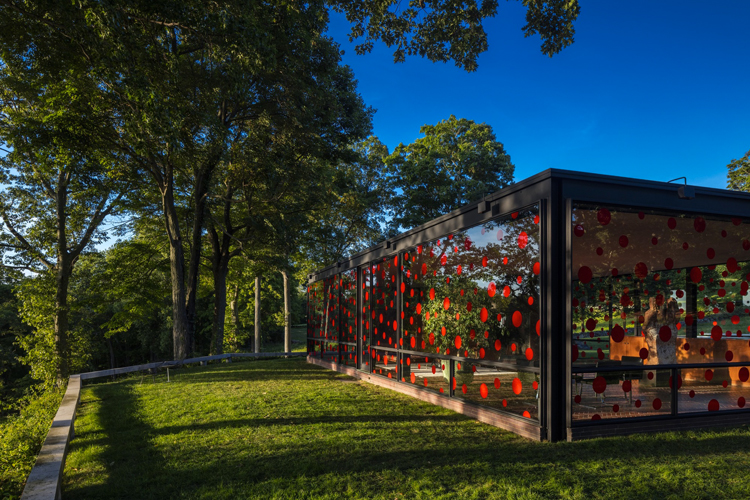 Kusama's Narcissus Garden—which was first created 50 years ago in 1966 for the 33rd Venice Biennale—will also be incorporated into the Glass House's 49-acre landscape in New Canaan, Connecticut from May 1 to November 30, 2016.
all images © Matthew Placek