The reason we simply adore pearls is the beauty that lies in their unembellished simplicity. Nowadays, we are finding ourselves in the middle of a pearl renaissance. The days of bashfully accessorizing with your grandmother's pearl earrings or having flashbacks to school yearbook photos where you can barely see a pearl are long gone. Today, we can use any excuse to wear pearl earrings, as they are back in endless varieties and they are prettier than ever. Whether you opt for freshwater, or baroque, you can never go wrong with a classic pearl.
This may also be where we struggle the most. With so many options, it's difficult to decide which style of pearl earrings suits our style perfectly.  Not to mention the fact that we enjoy dressing up for different occasions, so if you need an excuse to buy more than one pair of pearl earrings – you're welcome. We've compiled a list of the best pearl earring styles for various types of occasions. You can also check Jewelers Boise for an incredible selection of jewelry for all occasions.
Photo by Zulmaury Saavedra on Unsplash
Pearl Studs To Boost A Simple Everyday Outfit
Many people wear their pearl jewelry exclusively for special occasions, but the truth is that most pearl jewelry can be worn on a daily basis, even with casual outfits. Pearl studs are the answer to looking polished while running errands, having a coffee with your friends, or even having kids run around you. Whether you are staying comfortable with jeans and a basic tee, or wearing a breezy summer dress, pearl studs will instantly elevate your look and cover you in an aura of elegance.
This type of earrings can be paired with other simple jewelry, but they are pretty enough to be worn as a single accessory. It's no surprise that many women wear them as a signature jewelry piece, and if you still don't own a pair of studs, you can shop earrings here. They will probably be your most convenient piece of jewelry, as there is no risk of snags on clothing.
Image by Яна Тикунова from Pixabay 
Pearl Drop Earrings – The Way To Go For An Office Setting
These are quite similar to stud earrings, with the only difference being that they dangle below the ear. Pearl drop earrings usually feature a baroque or a teardrop-shaped pearl, which goes incredibly well with casual-smart and business outfits, while giving a classy, feminine look at the same time. When it comes to pearls, less is more, so these single drop pearl earrings are the way to go for a day at the office.
Office clothing usually includes monochromatic colors, and whether you choose to wear silver or gold pearl earrings, they will create a simple cohesion throughout your pieces without having to wear any other jewelry. They say that you don't get a second chance to make a first impression, so don't think twice about wearing your elegant, yet simple pearl drop earrings to leave a positive first impression at a job interview.
Pearl Hoops For An Evening Out
This type of pearl earrings is a modern twist to the traditional pearl earring style. Hoops are fun and pearls are classy, so when combined, the result is a both fresh and elegant vibe to your evening look. Pearl hoop earrings can be either a single pearl placed in a metal hoop, or an entire hoop of pearls. Gold hoops are girls' favorites for a nighttime look, so it's time to level up the evening wear by adding pearls. The warmth of the gold will bring out the shine of the pearls, so this exciting piece of jewelry will add a fun and classy vibe to your nighttime outfit.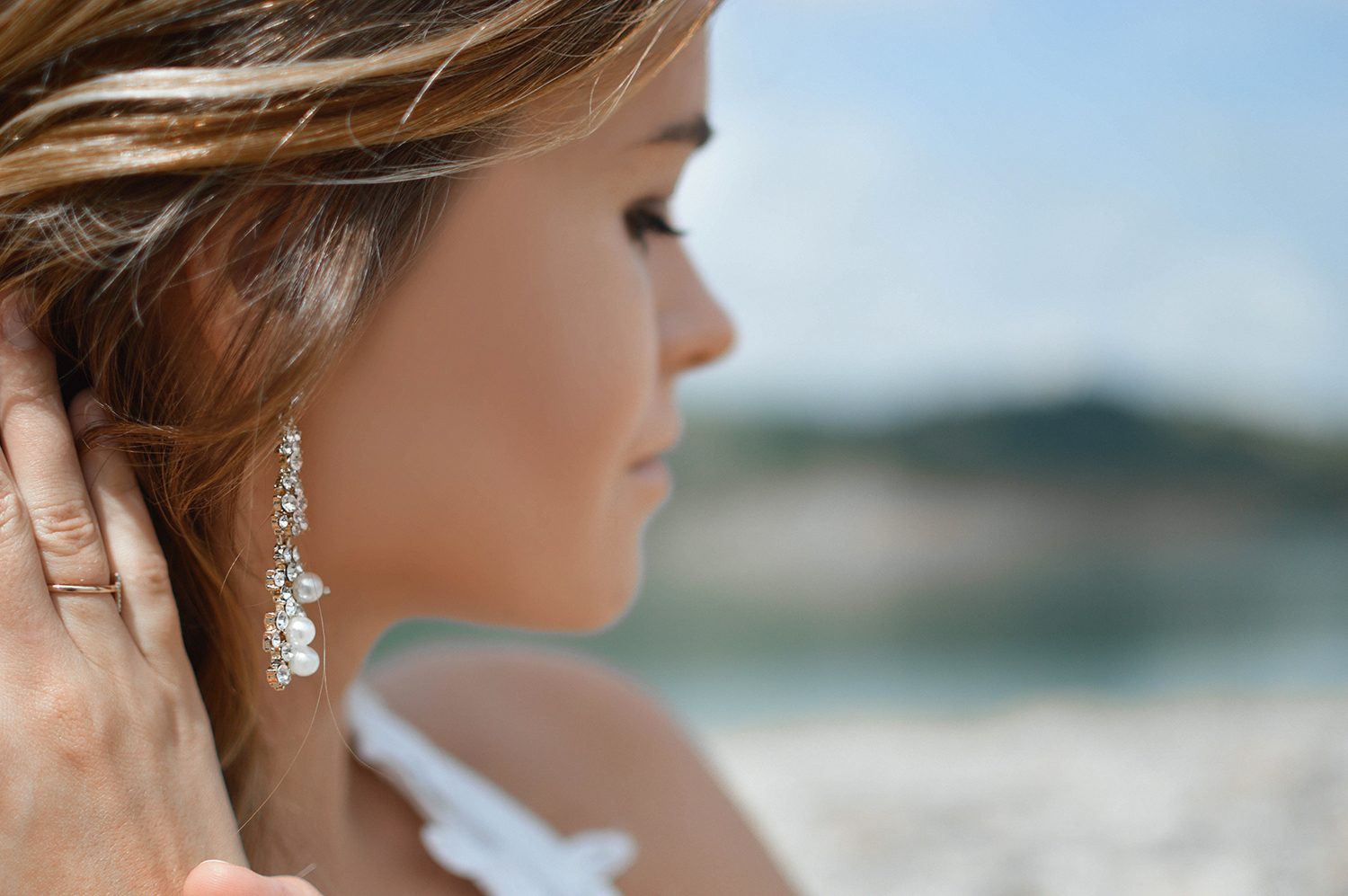 Photo by Tamara Bellis on Unsplash
Cluster Pearl Earrings Will Make You Glow At Cocktail Parties
There are occasions where you want to look a million dollars and have all eyes on you, and the best way to achieve that is by wearing pearls. Cocktail parties are the ideal excuse for a glow up, so when matching your outfit with jewelry, cluster pearl earrings are the perfect solution, as they can be used to complement almost every elegant outfit. The saying "the more, the merrier" doesn't always apply when it comes to wearing jewelry, but it certainly does when choosing the ideal pearl earrings for the next fancy occasion.
As far as cluster pearl earring styles are concerned, chandelier earrings and pearls gathered in a geometric shape are the most popular choices for a classic cocktail dress pairing. If you are opting for a more modern look, wearing pearls in a geometric shape will work better than the traditional round shape ones.
Mix Pearls With Gemstones For The Next Festival
Suitable for every season of the year, semi-precious stones have been around for quite a long time, and are apparently here to stay. They come in a variety of colors and shapes, and when mixed with pearls, they can easily turn into a unique statement piece. Since festivals are all about eclectic style and color, adorning your ears with an elaborate mix of pearls and gemstones will top up your original look. If you are feeling bold, you can always opt for a mismatched look and wear only one earring carefully detailed with pearls and semi-precious stones.
Photo by SEASHELL IN LOVE – Kristin on Unsplash
Give A New Purpose To Your Classy Pearl Earrings
Pearl earrings are a truly timeless jewelry choice, and they even deserve to be called 'the little black dress' of jewelry. Not only are they a symbol of class and sophistication, but they are also suitable for every occasion, as they come in many shapes and styles. Whether you choose to wear them with a casual outfit, in an office setting, a night out, or your next cocktail party, know that pearl earrings are one of the best jewelry investments. One thing is certain – they are a staple in your collection and you will never have to worry that they would go out of fashion. It's time to take the dust off your grandmother's pearl earrings collection and wear it proudly.