Having a garage at home can be a useful utilization of space if you plan it smart. Unless you're one of those people whose garage already has a number of unnecessary things cluttering it up?
Whatever the circumstances may be, here in Sarasota, we understand that some of us get into the habit of dumping things in our garage from time to time. And very quickly, it can become quite hard to get the motivation to clean it up. 
Fortunately for you, this is where we come in. We've come up with a 6 step plan that will help you to clean and organize your garage. Don't worry; these steps are painlessly simple and really easy to follow! All we need from you is a little bit of your time and patience. 
So, without further ado, let's get right into it, shall we? 
1. Having a Plan
Are you an avid gardener storing your gardening tools inside the garage? Or, you're that person who has just too many sports or fishing gear. Maybe you are both, and now your garage has ended up looking like a mess. There are a lot of people here in Sarasota guilty of doing that.
This is where you make a plan to decide what you want to use the space for. It could be something as simple as just being able to park your car inside or turning it into an art station – start off by making a list of things you'll need to get it done.  
When it's time, clear out a space or move out your car and open up the doors to let some light in and get to work. A side note – playing music or listening to a podcast/audiobook can keep you motivated to keep going!
2. Start Sorting Everything Out
At first, tackling an already cluttered garage can seem daunting. That's why it's vital to figure out a way to get the job done efficiently and safely. 
Start by doing the easiest thing first, like collecting any recyclables or labeling items that you want to donate or take to the dump. The goal here is to clear out your garage entirely and start from scratch, piece-by-piece. 
Keep in mind, it might take a weekend or two or more, so it's best to follow up with what you've done at the end of each session. 
For instance, if you have everything laid out outside, make sure to cover them up with a tarp at night to keep it protected from the weather and curious Sarasotian eyes. 
Start Small

 
If you don't want to start from scratch, then it's okay to start by picking small sections that have caught your attention first. Don't let yourself feel guilty about letting your garage space go to waste. Try to have the mindset that you've finally decided to do something about it.
Once you've cleared out the hard areas, the rest will be easy. Remember to set a time aside for the following week and keep going at it in short bursts until it's done.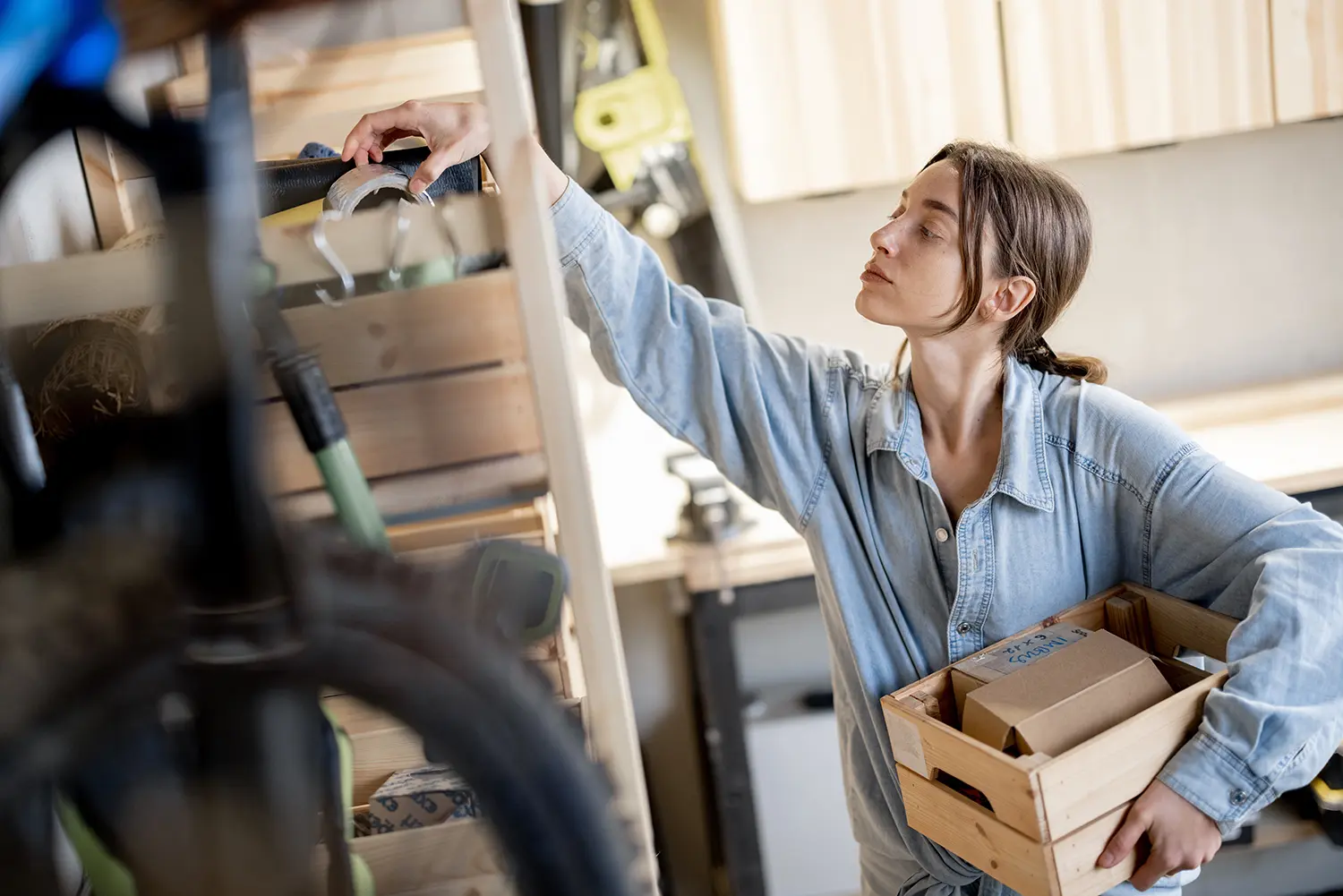 3. What to Keep and What Not to
Just as you use the same rule for cleaning out clothes from your closet, the same can be applied for cleaning out the garage as well. If you have items that you haven't used in over a decade, now is the time to let Sarasota trash pickup do its thing. 
Focus and be honest about the hobbies and activities that you do the most. Keep what you know you'll definitely need and want to use and set aside the ones you won't. There are many of us here in Sarasota who have trouble letting things go. You can categorize your stuff into regular use, annual use, never used, and sentimental storage. 
Speaking of sentimental items, it helps if you can draw the line between what you really want to keep and what you actually have room for storing safely. 
Give it to Someone Who Needs it
No doubt you'll come across a lot of things you won't be using during your cleaning session. It would be smart of you to have a shortlist of places where you'd like to donate those things. For example, these could be the local Salvation Army, Goodwill, or Habitat for Humanity in Sarasota, all of which are amazing places to start with. 
Just make sure to give them a call first and confirm whether they can accept your donated items or not. If, for some reason, they are unable to, then check out the donation opportunities your local community has set up. 
For instance, places like Leveling the Playing Field here in Sarasota accept various types of sporting goods, which they distribute to underprivileged children. This gives them a chance to participate in athletic activities. 
Have a Garage Sale!

 
If you think you can make some money by selling off some of the stuff you don't want, then a garage/yard sale or by posting them online. Folks here love that sort of thing here in Sarasota! 
Platforms like Craigslist, Facebook, Freecycle, and Instagram are all perfect platforms where you can advertise the items you want to sell. 
Just remember to do some research online first to better figure out how to set a price for your items.
Time to Say Goodbye

 
For the things that you can't sell or donate, well, there's only one solution for it – and that is to get rid of it completely. Your best option to remove junk will rely on how much stuff you actually have and the items you're throwing away. 
It's also possible that the garage cleanout leaves behind a bunch of stuff that's too big for the curb. More so if you're trying to get rid of large items such as lawn care equipment or old patio furniture.  
So, if you feel that you'll end up needing more pickup truck loads, then it's better to just rent a dumpster instead and say your goodbyes. 
4. Figuring Out an Organizational System
If you don't have a proper organizational system already, now is as good a time as any to have one. Many people in Sarasota say that the best kind of storage is anything that goes up. 
So, if you've already got shelves that are either wall or ceiling mounted, then that's just perfect. It's smart to use your walls and ceilings as best as you can to maximize space. An example would be to an open metal or wire shelving system with bins and tubes to store holiday decorations in. 
Lastly, don't forget about the lids for the layer of the bins. The dead spaces above any equipment storage system will function marvelously as a place where you can store water coolers or extra paper towels. 
5. Deep Clean the Space
Once you have your entire garage cleaned out, it's time to use this opportunity to give it a good scrub before you start putting things back in. The best way to clean a garage is to start from the top and work your way down to the bottom. 
Start by wiping down and dusting off the top of the cabinets, shelves, and refrigerator if you have one in the garage. Next, wipe down the walls, the doors of the cabinets, and the fridge with a damp, warm cloth. Remember to use a mild household detergent.  
After that, sweep the floor to get rid of any dust and dirt you've shaken loose from the shelves and cabinets. Finish it up by hosing off the floor and mopping it. Let the floors dry for at least two or four hours before you start putting things back in again.
Garage Cleaning Tips
If you're having trouble getting rid of motor oil stains, then you can use dish soap, cat litter, and a scrub brush to get it off. You can also wipe away any mold by either using vinegar mixed in warm water or bleach. 
Always use a sponge to clean the walls from top to bottom. And once you're finished, use a flat head mop with a microfiber cloth to dry the walls. Next, use a floor fan to speed up the process of drying the floors. 
6. Find Alternative Storage
We're aware that it's easy for your garage to become a place where you've stored all kinds of things. And most of them might not even be ideal for garage living either. 
So, if you're using something regularly, then keep it inside the house. For instance, having a coat rack in the garage may seem like a good idea until your clothes are exposed to all the critters crawling around. Since it gets really hot during August in Sarasota, damp, cold, and humid conditions can lead to having mold. 
This is the same with photo albums, soft toys, and furniture. Try to avoid storing dry or other food items on the garage shelves as well. When storing animal feed or bird seeds, a metal bin will be the best choice in keeping the moisture away.  
Keep fuels and flammable liquids separate in a place where they won't be knocked or spilled easily.
Final Thoughts

 
In conclusion, we'd like to say that cleaning out your garage doesn't have to be overwhelming or daunting. We hope that with the tips we've given here, Sarasotians can tackle their mess one step at a time and reclaim their parking space. Remember to set aside some time for it, as well as lots of patience.  
Let us know the methods you have been using that are helpful to you and if any of our tips help you achieve your goal in the comments below. Happy cleaning!