Drawing inspiration from mythological characters, controversial Beijing-based artist Ai Weiwei has realized his first work ever created for a retail space. By calling his exhibition "Er Xi", which means child's play,  the artist falls back into childhood and turns Le Bon Marché department store in Paris into his playground.
To achieve these mythological creatures,  Ai Weiwei has chosen the ancient technique of traditional kites, which brings together the flexibility of bamboo to the lightweight silk.
"I wanted to push back the boundaries of the medium, which is very popular in China. I went to the best Chinese kite-maker, Mr. Wong Yong Xun, in the province of Shandong. These characters are technical feats. At the same time, it's a very simple handicraft. Anyone can make a kite" explains Ai Weiwei.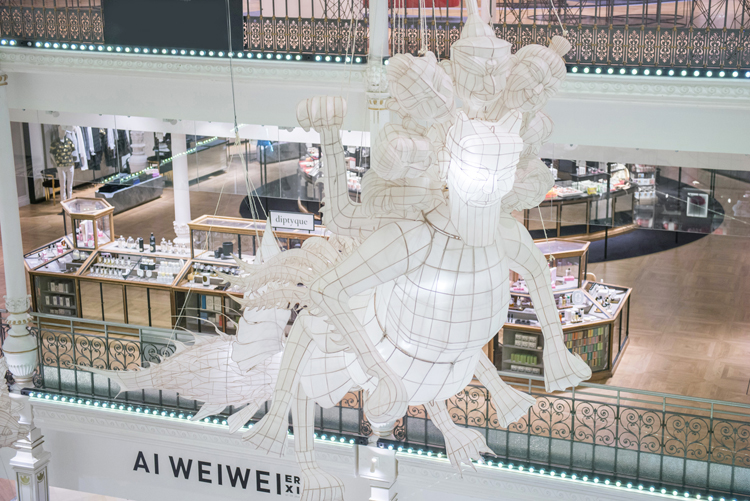 The characters are taken from Shan Hai Jing, also known as Classic of Mountains and Seas – a collection of tales told to children that dates back over 2,000 years.
The Er Xi exhibition is spilt into three parts, with the first set of sculptures located across 10 window displays, transformed for the occasion into stages for mythological storytelling, presenting a prelude to the works inside the department store.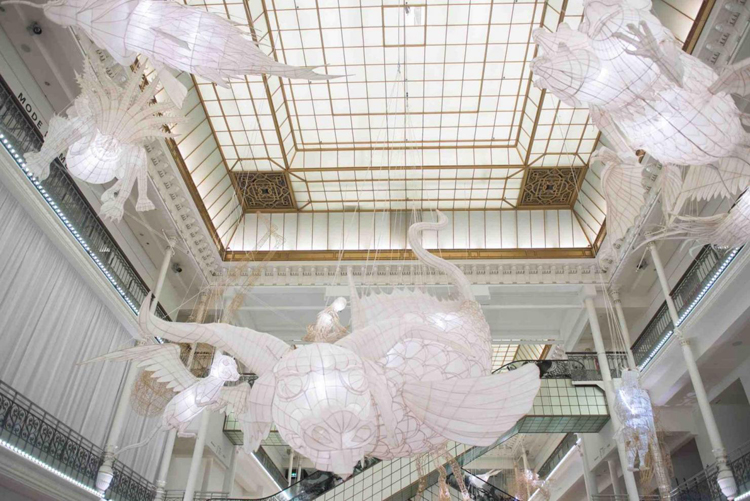 The works at the atriums further develops the narratives at the storefront windows and provides contrast. While the windows utilize predominately two-dimensional bamboo frames, the atriums showcase three-dimensional interpretations of Shahaijing woodcuts. Suspended from the ceilings to be viewed from below and above, these large-scale bamboo and paper objects bring their original forms to life in a different context.
Last but not list, the gallery has been designed has a space where visitors can engage more intimately with the works. The space features a dragon made of woven bamboo, which has an architectural dimension and quality that relates to the columns and space of the gallery.
Er Xi will remain on show until 20 February 2016 at Le Bon Marché Rive Gauche, located on Rue de Sèvres in Paris' 7th arrondissement.
 images by Gabriel de la Chapelle and Say Who | courtesy of Le Bon Marché
Comments
comments