London-based practice YARD architects has recently reconfigured and extended a dark and claustrophobic basement flat in Westminster to create a spacious and light filled contemporary home for the client, a young commercial property fund manager.
The existing living space was cramped with a poor connection to the garden and low ceilings, whilst an old conservatory blocked the window to a bedroom. YARD architects designed a side extension to create a full width living space, leaving a small courtyard to bring light and air into the centre of the plan. This courtyard serves the kitchen and the previously landlocked bedroom, and enables a dual aspect to the living space, a very rare feature in a basement flat.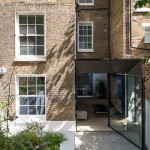 The extension itself is a highly contemporary insertion set alongside the traditional Victorian closet wing. The external finish consists of just two pieces of large format porcelain cladding to the face of the bevelled volume, with a giant aluminium framed pivot door functioning as both a picture window and an opening element between the new living space and garden. The bevelled geometry continues through to the landscaping, with generous angled steps leading from the newly excavated patio to the raised garden incorporating a steel framed love seat.
The bespoke joinery was designed by the YARD Architects in close collaboration with the client to balance the prosaic requirement for storage with a more multi-faceted functionality. A material palette of black stained and white oiled oak creates a grown-up minimalist aesthetic throughout the home.
all images © French+Tye