In one of Tel Aviv main boulevards, studioDO has completed a 100-sqm-meters apartment with a green kitchen and storage and a 9-meter long floating carpentry unit. The clients purchased BZ Apartment to act as their city getaway – a place in the city for them to visit on weekends and host family and friends.
The apartment is located in a 1960's brutalist building in Tel Aviv. Prior to the renovation, the apartment was heavily divided into small, dark rooms and had little visual connection between the interior to the lively boulevard and its surroundings. The original layout was completely transformed: all the interior walls were removed to open up the space and to enjoy the natural light of the southern exposure. The new layout is composed of a rectangular open living and dining space, which is wrapped by an L-shaped private area with 3 bedrooms, each one with its en-suite bathroom.
The kitchen, which was previously tucked between four walls, is now part of a large living-dining space with large windows facing the boulevard. The kitchen is composed of 3 elements: High olive-green storage cabinet, which conceals the entry door to one of the 3 bedrooms, a box like Kitchen Island and a floating carpentry unit, spanning from the kitchen through the living space. The material pallet, which consists of olive green carpentry and walnut wood, draws its aesthetics from the vast views of the boulevard and its ancient Ficus trees .
The architect placed horizontal elements such as a box-like kitchen island, custom made lighting fixtures, and a floating 9-meter long walnut wood cabinet, to guide the gaze towards a 6-meter width window overlooking the boulevard. The furnishing combines new pieces with design classics: a modern sofa is paired with a Nanimarquina hand-woven rug, a 1950's original Tulip chair and a marble top coffee table, with a selection of local artworks by artist Orit Haviv and Tal Nisim.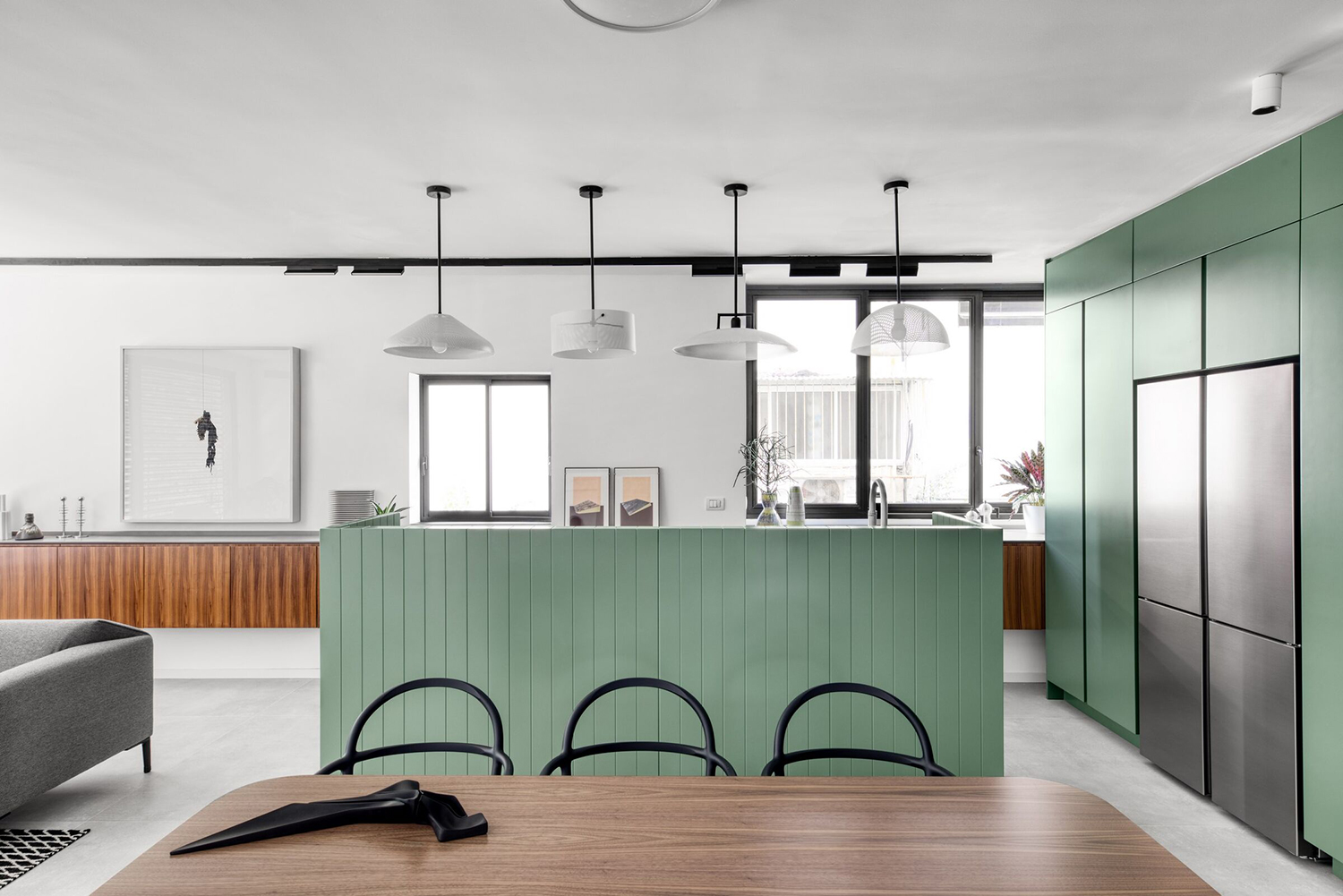 Image courtesy of talnisim.com