Future Motion, maker of the popular Onewheel electric boards, has unveiled the Onewheel Pint, the lightest and most affordable Onewheel ever, now available for preorder at onewheel.com from just $950 USD. "So many people want to get in on the Onewheel experience but haven't been able to afford it. This product unlocks the Onewheel experience for a massive new group of aspiring riders," says Future Motion founder and CEO Kyle Doerksen. "From the beginning, we've wanted to expand our product line to include a more approachable Onewheel for coffee shop runs, micro-adventures, commute-hacking and casual riders. New York City is all about diversity, and Pint is about embracing the diversity of our riders. In the same way that a car company makes different cars for different purposes and people, Future Motion now offers several differentiated products designed for various uses rather than one-size-fits-all."
The Pint has three main new features. There is the maghandle (a magnetic carry handle that folds out from the side of the board), the lightbar which serves as an LED notification and battery strip on the footrest, and a dismount feature that streamlines the riding experience for novice riders called simplestop. This allows inexperienced riders to tilt the board back and come to a complete stop so they can step off.
"After adding more power, speed and range with our last two product releases, we wanted to put the core Onewheel ride experience into a more accessible package. That's why we spent the last three years incorporating everything we've learned from our other products to make this little shred bot. It's a great addition to the premium, long-range Onewheel+ XR already in our line-up," added Doerksen.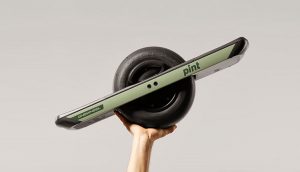 In addition to new features, Pint also includes several technologies that Onewheel riders have come to appreciate, including Hypercore motor technology for a smooth, powerful ride experience, and the Onewheel App (available for Android and iOS), which enables users to change the way the board rides with Digital Shaping. Pint reaches speeds of 16 MPH and has a range of 6-8 miles. Pint is the first Onewheel available in multiple color options, including Slate, Sand and a limited launch edition in Sage.
"It's hard not to love Pint. It's a fun-sized stoke machine that fits in your life," said Onewheel Chief Evangelist Jack Mudd. "Everyone who's had the chance to see and experience Pint quickly becomes obsessed. I can't wait to share it with the world. There are going to be a lot of Pints out there this summer."
While many predicted that Future Motion would take their manufacturing to Asia as their production volumes expanded, Future Motion has re-committed to USA manufacturing by announcing Pint will be assembled at a new factory in San Jose, California. "Electric vehicles are taking over the world," said Doerksen. "Our approach is to make magical, high-quality small vehicles that people truly love. We're able to deliver on this by investing in manufacturing in San Jose."
Future Motion products are available at onewheel.com and at select dealers across the U.S. and worldwide. Onewheel Pint retails for $950 USD (monthly financing options available as low as $59/month) while Onewheel+ XR is available for $1,799 USD.