ThreadStax is a closet organizing solution that folds and stacks shirts, jeans, pants, and other garments in a neat, impossible-to-disturb stacks. Utilizing the power of magnets, ThreadStax keeps your closet and drawers looking sharp and easy to navigate. Just enough magnetism to keep the stack in place, while allowing you to flip through and select your clothes with a gentle tug. Air vents allow clothes to breathe, and spacers not only provide support to the stack, but keep delicate items from being crushed underneath your other items.
 "I created ThreadStax to fulfill my own need after purchasing my 500 sq. ft. condo. It only had a coat closet and a few awkwardly spaced shelves. I needed a solution that would allow me to stack as high as my shelves allowed without my clothes becoming a clumpy wrecked mess after a few days," explains the inventor Scott Kosmach.
After conducting a poll of about 300 people, Scott found out he wasn't alone: 53% reported having clean clothes cluttering their homes, and 90% stated they felt unmotivated to organize their wardrobe in the first place because clothes never stay organized for long. If that sounds like you, preorder now a ThreadStax system starting at just $30 USD.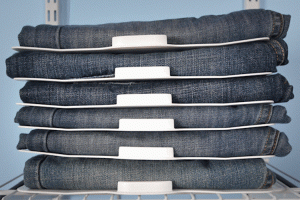 all images and video courtesy of ThreadStax | H/t fastcodesign