Yabuli Entrepreneurs' Congress Center, designed by MAD Architects, is nearing completion in the snow-covered mountains of northeastern China.  Nestled among yabuli's undulating terrain, the design of the conference venue evokes the concept of a tent sitting at the foot of a mountain, with its soft, curving, silver-white rooftop echoing the snow-capped hills surrounding it.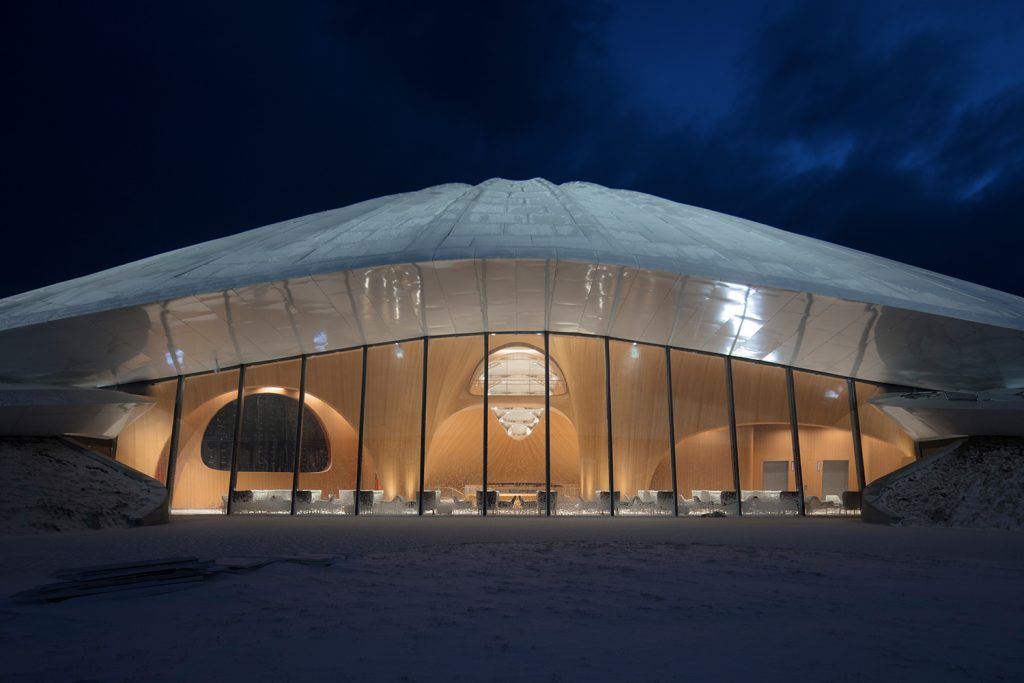 In 2017, MAD Architects was commissioned by the Yabuli CEF to design and build a permanent venue for their annual summits; a landmark that could carry their members' entrepreneurial spirit. MAD envisioned a building embedded in the mountain forest, a place of strong vitality and creativity to embody the entrepreneurs' boldness and wisdom.
During the day, natural light floods the internal spaces through a giant glass skylight. At night, the same skylight allows a warm glow to soar from the building into the cold mountain forest, evoking the image of a campfire around which entrepreneurs share ideas, thoughts, and stories. Inside, a blend of wooden walls and natural light create a warm, soft atmosphere, while an outdoor public plaza and glass walkway allow users to marvel and be inspired by the connection between architecture and nature.
Alongside its role as a host for large-scale conferences, the venue also contains an exhibition hall, meeting rooms, and a television hall, creating a blend of mixed-use spaces that can accommodate conferences, corporate training, and other events. The venue is also open to the public, with the exhibition hall serving as a valuable tool for showcasing and exploring Chinese entrepreneurship.