Unveiled for the first time a couple of years ago, memobottle, a premium slimline, reusable water bottle designed by Jesse Leeworthy has recently won the gold in the coveted Golden A' Design Award in the Fashion and Travel Accessories Design Category presented by A' International Design Award & Competition.
The shape of the memobottle mimics the A5 and A6 international paper sizes and is made from a durable BPA-free cradle-to-cradle certified plastic.
"Somewhere along the line, society became fixated on designing cylindrical shaped bottles, from this, car drink holders and bottle accessories followed suit. Rather than making a product that conforms to the status quo, we decided to flip the equation and create something that is easy to transport but still holds the functional aspects of traditional bottles", says Leeworthy.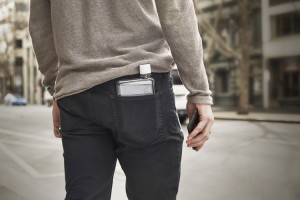 The memobottle was designed in an effort to raise awareness about the single-use bottle epidemic and reduce the number of water bottles ending up in landfill and our waterways.
"We aim to inspire society to move towards a more reusable society," explains Jonathan Byrt,
 Co-Founder of memobottle project. "Human convenience is often the catalyst for devastating climate damage, so to make a positive change and impact on the environment we needed to create something that offered improved human convenience coupled with a clear environmental advantage." 
"We realised a long time ago that people really are resistant to change. Unfortunately, when presented with two options a lot of people still go with the more convenient or cheaper option, regardless of the environmental or social implications. To really break people's habits around single-use drink bottles we knew we had to offer something that was truly convenient, beautiful and sustainable in design. The memobottle™ had to make people think, and encourage people to ask questions," says Leeworthy.
The memobottle has not only become an iconic product but it has become a vehicle for changing society's mentality around how water can be transported and consumed. It signifies the balance between improved life convenience, environmental responsibility and considered design. Lear more about memobottle here
all images © Tarin Grey