The village of Tsilivi on the Greek island of Zakynthos sets a bucolic backdrop for the newest jewel in the Ionian crown: Olea All Suite Hotel. A veritable treasure, located on a hillside on the northeastern coast, the all-suite, adult-friendly resort (accepting guests aged 12 and older) offers a unique vantage point from which to absorb this island's stunning natural beauty.
The sea, countryside, and sunset are all within view, framed by Olea's luxe suites and numerous communal areas, each defined by modern and elegant interiors. With three restaurants, three bars, and a multifaceted spa area, Olea is the sum of its many parts, which together amount to a truly rejuvenating experience.
Also known as Zante, Zakynthos is an idyllic island in the Ionian Sea, marked by picturesque beaches, lush countryside, and clusters of caves and sandy coves. Tsilivi, situated on Zakynthos' northeast coast, offers expanses of crystal blue waters that present the opportunity for a number of watersports, and sit in a soothing contrast to the locale's craggy, mountainous landscapes and thick, pine-forested hills, the greenest in Greece, and home to an abundance of wildlife. Conceived with the concept of wellness at its core, Olea All Suite Hotel embraces all this and more. The resort is a dreamy haven which carefully balances a habitual reappearance of water and its soothing qualities with contemporary, minimal design for a property that is at once tropical and modern.
At the heart of the property is a 4000 square meter lake-like pool, which weaves and winds around Olea's 93 suites, each of which takes a natural position on this internal creek. In a reflection of the powerful presence of lush vegetation and calming waters in this corner of Zakynthos, Olea's design by Athens and Stockholm-based architecture practice Block722architects+ visibly incorporates natural materials such as rustic oak wood, bamboo, and rattan for a resulting aesthetic that both soothes guests and embraces the surroundings.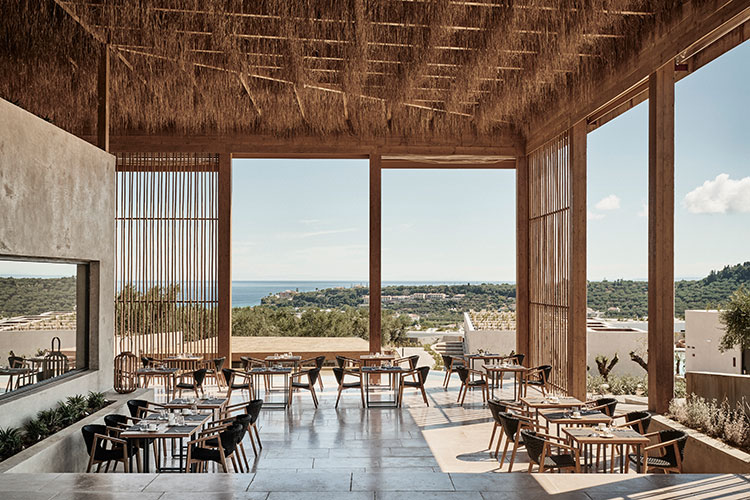 Blending both the outdoors and indoors, the 93 accommodations range from 36 square meters to 105 square meters and each feature terraces that overlook either the Ionian Sea, the resort's pool, or the gardens. A fluid mix of smooth stone, multitextured linens, and an earthy palette lend itself to an understated bohemian style, and each cube structure is flooded with enough light that the boundaries between inside and out are comfortably blurred. This softening of perimeters is further emphasized by private swim-up pools in some suites and easy access to Olea's dominant waterway.
Despite its many recesses and hide-outs for solitude, Olea has an equal amount of natural meeting points. Sun loungers, positioned so they appear to skim the water's surface, meander around the main pool and its many waterfalls, and are within easy reach of each of the resort's eateries. The casual Omikron Restaurant complete with outdoor terrace serves up international cuisine, while the more formal Flow Dine and Wine is a dinner-only Mediterranean kitchen that brings fine dining to the hotel. Gourmet offerings are rounded up at the Greek-flavored Cocoon Resto and Bar; a perfect prelude to nightcaps at O Bar, which offers a selection of national and international wines, or F Bar and its choice of local wine and signature cocktails.
Underscoring Olea All Suite Hotel's commitment to wellness and leisure is a gym, beauty salon, and the Royal Spa & Relaxation area; a 300 square meter space of peace and tranquility. Here, face and body treatments using essential oils made with Mediterranean herbs are carried out in treatment rooms and spaces characterized by elements that are in sync with nature, including flowing plant life and topiary, bamboo walls, and water features. Together with the property's extensive gardens, ceaseless integration of water and consciously Mediterranean design, the spa completes an idyllic setting where total requiescence is a tangible reality.