Opening this June on Paros' northeastern coast, Greece, Parílio is a tangible celebration of island's timeless simplicity surrounded by amber-hued fields, araucaria trees and, of course, the impossibly blue waters of the Aegean Sea.
Athens-based Interior Design Laboratorium was influenced by both the island's distinctive architecture and their own brand of holistic design when creating the visual concept of the 33-suite Parílio, the name of which is derived from 'Paros' and the Greek word for the sun 'ilios'.
Seeking to capture the serenity of its setting, the interiors are defined by a soothing, tonal color palette and natural materials that are augmented by an eclectic collection of vintage and modern furniture. Contemporary Greek design pieces sit alongside objets d'art by leading European designers, while striking ceramics sourced from an innovative North African studio serve to inspire and provoke conversation.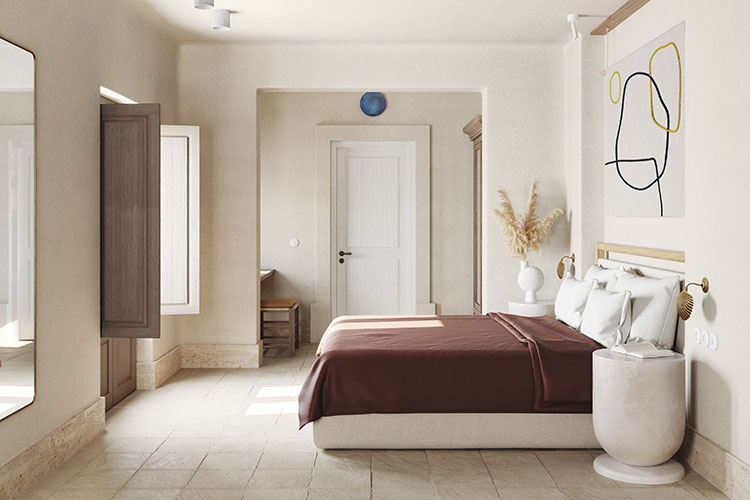 Distinctive structural features such as arches, concrete columns, and thick masonry are representative of traditional building techniques and help to create a sense of sanctuary, resulting in a space that is both cathartic and elemental.
Surrounded by the wild beauty of Paros's pastoral landscape, Parílio's restaurant and patio, Mr. E, is a lesson in casual elegance, serving fresh, seasonal Greek and Mediterranean cuisine inspired by the island's natural bounty.
The hotel's pool and sun-drenched deck serve as the perfect perch from which to take in the peerless vistas, while the famed Kolimpithres Beach with its unique granite rock formations is just a short stroll away. For those looking to fully embrace sublimely slow-paced Cycladic living, the on-site spa offers the ultimate time out with facial and body treatments that incorporate an Asian-inspired mix of essential oils.