Italian architect Francesco Zarbano has teamed up with Tommaso Guerra to create the whimsical interior of Romeow Cat Bistrot in Rome, Italy. Romeow Cat Bistrot concept comes from Japanese Neko Cafè and European Cat Cafè, and arrives in Rome becomes something more: a bistro, with sophisticated vegan and raw cuisine and pastry, open from breakfast to after-dinner, where 6 cats live.
From the large windows, that light up the main room, you can see the tables, the chairs, the piano, some pillows and wall decorations: they immediately give very familiar and comfortable feeling, more like the cosy dining room of a house than a restaurant. Walls with rigorous colors, almost classic, contrast with the saturated hues of furnishings, light sources and frameworks; lots of color and wood, create a general perception of vitality and originality, combined with sobriety, accuracy and cleanliness, that are necessary in a place serving food in the presence of animals.
Except for the kitchen and cold cooking lab, that are strictly forbidden to animals, the 6 cats can go everywhere in the bistro. The cats can reach any corner of the bistro, through suggestive hanging passages, made with bookshelves and drawers, that become rest stations: they can also climb a 4 mt high tree.
From the end of the main room, customers can access to the loft with a wooden stairway: that's a lounge area with a high ceiling, where enjoy smoothies and drinks; there's also a low ceiling area, suitable for cat. This's an additional space, where the cats can have privacy, even if they're close to people: it's a very well-finished sitting area, with velvet chair, pillows and cases.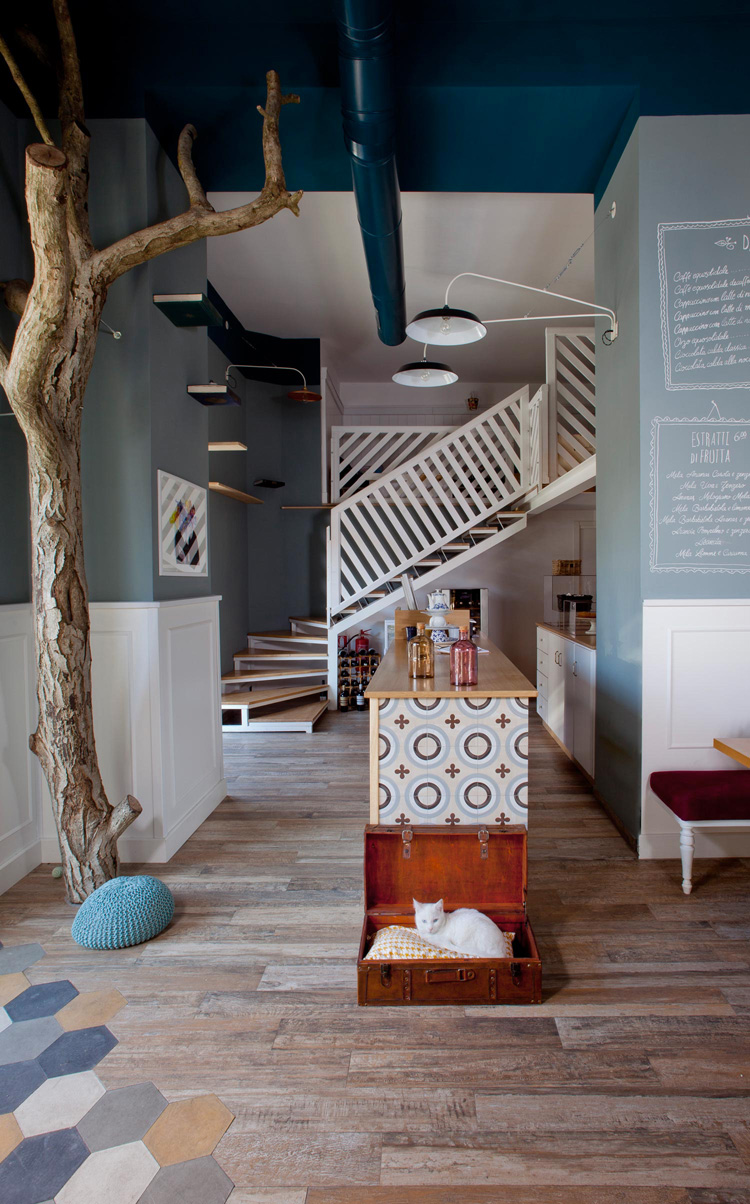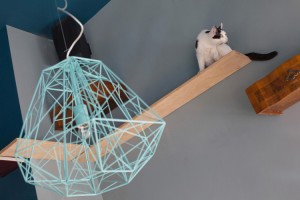 all images © FRANCESCO DEMICHELIS